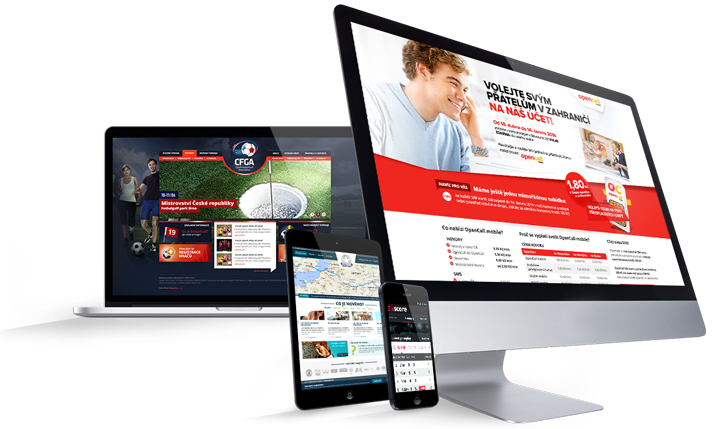 That is us
and our creative solution from the begining
We are a creative and playful agency, with 18 years of experience in IT technologies of our people. Yes! Some of us have been working in this professional field and have devoted more then 10 000 hours of their lives. For these reasons we can dare to say, that we are able to solve any problems in this existing IT world. Don't you belive us? Come and try us and we can talk about results.
Our people have gone through developing phases – either professional or vital and we believe that because of our experience, quality and simplicity of provided solutions you and our clients find their own way and use.
We are here to give you
simplicity and elegancy
in this comparatively confusing world of IT technologies.
What we have achieved, what we can do and where we help
more then 500 created webs and internet and intranet applications
more then 100 000 hours of done work for clients
help and realization in grafic materiales – logos, printings, webs, portals, mobile applications
assistance in building brands and awareness of clients
solution of intranet applications, helping reduce costs within the internal activities in firms
realization of internet portals, bringing new customers to our clients
realization marketing plans to increase numbers of web visitors
we provide advertising and PR for clients as they wish
design and realization of databaze systems
analysis client's need and propose a suitable solution
conecting with different information systems – SAP , Helios, Pohoda etc...
we provide conections of web portals with mobile technology
we deal with our own developments and projects
we help and contribute the needy people – Dobrý anděl is one of them
What we have fun with
We programe with these equipments


.NET - C#, VB.NET, MS SQL
JavaScript, CSS, xHTML, jQuery
Android, iOS, Windows Phone
PHP a MySQL in emergancy
although outdated but good classic Notepad or PSPad;)

content management systems is solved by


10years old proven system for site management – more then 300 installations
WordPress, Drupal, Joomla - only if necessary...

grafic ideas implemented with


Adobe Photoshop, Adobe Illustrator, Adobe InDesign, Gimp, Corel Draw
sometimes we use MS Painting in Windows:)

and advertising with help of

within SEO
classic PPC ads
PR articals – we can provide if necessary:)